Episodes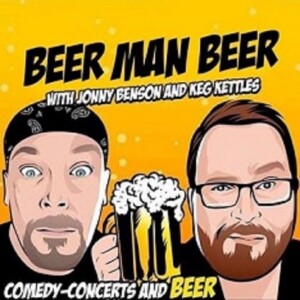 Wednesday Feb 20, 2019
Wednesday Feb 20, 2019
We have a Yalie in our midst....
Kendra Dawsey and Mike Garb stop by the Beer Man Beer Studio. We talk Bee Movie, learned what a zeitgeist is, come to find out Jonny is NOT related to Barry Benson of The Bee Movie. Chatted about bananas, dead singers and how they died, 90's hip-hop, Rage/Wu-tang concert in Hartford and much more....
These two white chicks also talk about their early days in comedy.
And our "Solid/Not Solid" beer review.
Let us know....Should Kendra Dawsey start a podcast?
Not many cannonballs this episode...we apologize
BEER: Avery Brewing Co.- Fimbulvvinter: Belgian Quadrupel 16.9% (ABV) Limited Batch ~ SOLID!!
Drop us an email
COALHOUSE PIZZA - STAMFORD, CT
MUSIC: COMETA @ Cometamusic.com
EMAIL: beermanbeerpod@gmail.com
INSTAGRAM: @beermanbeerpodcast_
Jonny Benson: @therealjonnybenson
Keg Kettles: @j.keg_ket_bmb
Kendra Dawsey: @unamusedblackgirl